Wholesale Lobsters
Atlantic Canada
Canadian Atlantic Lobsters are harvested in the cold pristine waters along the rugged north Atlantic coast of Canada. They are harvested from the icy salt water the same way they have for generations, in traps attached to lines hauled one at a time. When you eat Canadian Atlantic Lobster you can be assured the lobster is both good for you and that the harvesting method is good for the environment.
Multiple holding pounds
Global distribution
Professional sales team
Global shipping infrastructure
Frozen lobster
Cooked lobster
Live lobster
Premium hard-shell
GET YOUR FREE QUOTE
Canadian Wholesale Lobster Supply Company
Our Atlantic Canada Sustainable Seafood
Get A Free Quote For Any Size Order Shipped To Your Door Or Airport!
Why Order From Us
Premium Quality & Awesome Support
Overnight Priority Shipping!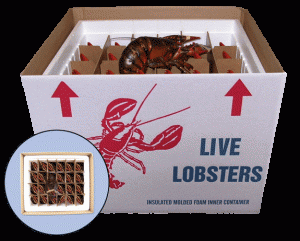 Next day delivery to most locations across Canada & USA
A leading supplier fresh, live Atlantic Nova Scotia lobster across Canada. Our fresh premium hard-shell live Nova Scotia lobsters can be a feast on your dinner table tomorrow!
Our premium hard-shell live lobster is available in a variety of sizes. We can ship lobsters anywhere in the world, maintaining their fresh, delicious condition. Carefully coldpacked in cushioned compartments using a cloud box they can reach you at the peak of PERFECTION.
Shipped in Styrofoam cloud box
Gel pack to keep fresh and cool
Live and ready to cook
Premium hard-shell
Shipped to your home or office
Weekend pick up at nearest airport